Do you know someone who has had a heart attack or stroke? A parent, a grandparent or another special person in your life? Many of us do, or sadly might in the future, and the Heart and Stroke Foundation is doing something to mitigate the effects of one of the most lethal diseases in our society. They're committed to preventing the loss of lives through research and education, better treatment systems, and supporting survivors and their families.
To support the foundation on February 13, 2014, there's a charity auction taking place in Toronto.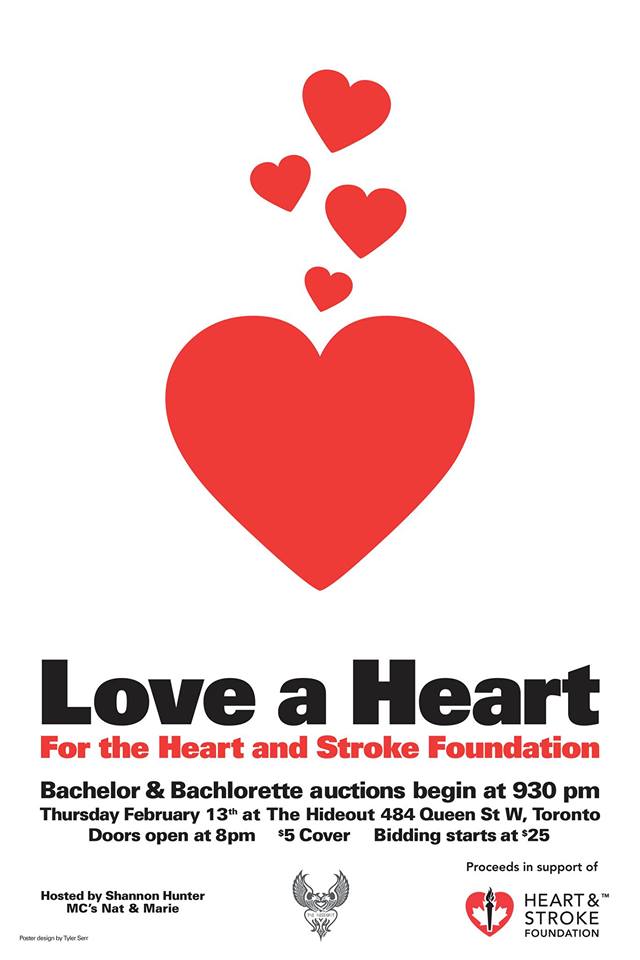 As the fourth #Loveaheart event of its kind, this year #Loveaheart's organizer Shannon Hunter says she hopes to raise more than $10,000 this year, to take the total sum raised to $40,000 over 4 years. There are 10 bachelors and 10 bachelorettes who will be up for auction. Each of us will come with a package date, including dinner or another fun activity. So, you can donate to charity and get some interesting conversation and a fun date out of it too!
Please consider participating:
bid
promote the event
recommend it to your single friends
Check out the bachelors and bachelorettes up for auction and RSVP on Facebook. Join in the conversation on Twitter: #Loveaheart
Hope to see you at #Loveaheart <3
—
Still need more good reasons to participate?
So far the Heart and Stroke Foundation has invested $1.35 billion on research, making it the largest contributor in Canada after the federal government. And, over the 60 years that the foundation has been in operation, the death rate from heart disease and stroke has declined by more than 75 per cent.