If there is one Canadian techno artist whose music is consistently elegant, melodic and rhythmic, that artist is Arthur Oskan. I was super pleased when he asked me about a year ago to write his biography for use in the promotion of his album "Exit Strategy" (Thoughtless Music, 2012). You can read his bio below and to learn more about his latest projects  visit arthuroskan.com.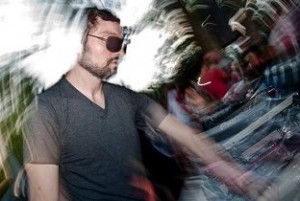 Hailing from Toronto, Arthur Oskan has spent the last twenty years solidifying his place as one of Canada's top electronic music producers.
A Juno Award nomination (an award given to Canada's top musicians) for his album 'A Little More Than Everything' (2011) on Thoughtless Music was not something he ever expected when he started making music, but it was something that others who have watched his music evolve might say was inevitable.
"As a teen, I knew I wanted to work in a creative field, so my driving motivation then, as it is now, was to express myself in any way possible" says Arthur.
In the early 1990's, in a Toronto suburb, Arthur routinely headed into the big city to shop for records to feed his insatiable appetite for avant-garde sounds: new wave, electro and synth-pop. Nestled in the confines of his growing studio, Arthur began dissecting elements of his newfound records, re-mixing and re-programming them to create his own tape edits.
"While working as a dishwasher, I purchased my first keyboard; a Roland JX-3P which I still own today. From the moment I turned it on, its sound instantly connected me to every record I had owned up until that point". It was then that he really began collecting more gear and creating his own compositions.
Following the mild success of his first two industrial music projects, he made the move downtown, and by the mid-1990's, Arthur found himself performing live for local rave promoters. In that same period, he began making the four-hour trek to Detroit; trips that proved to be life-changing experiences. Arthur's industrial and synth driven influences finally came full circle, and he soon realized his own brand of electronic music, ready to present to the world.
"I slipped a demo to Greg Gow's label Restructured back in 2001, which paved the way for my first release on the label". Club dates at Toronto's now infamous System Soundbar along with other local clubs followed, opening the door for performances at City Club and The Works in Detroit.
"It was during my 2004 performance at The Works when I met Brian Kage of Beretta Music that I was able to forge a working relationship with him, which culminated in several releases and remixes for his label."
Over the next decade, Arthur played an increasing number of gigs, including invitations from various festivals: Stereo Sunday (Holland), MUTEK (Montreal), MEME (Winnipeg), Harvest (Toronto) and along with appearances in New York, San Francisco and Detroit.
He has created and amassed an impressive catalogue of over 40 releases; a mix of LPs, EPs, and remixes for artists such as Aux 88, Matthias Voigt, Luke Hess, and Deepchild. In recent years, he's appeared on many well-respected labels such as Ghostly International, Thoughtless Music, Trapez and Beretta Music.
Meanwhile, local support and growing international recognition for Arthur's work has continued with the production of a short documentary film entitled "Arthur Oskan, A Long Run," and several of the world's top techno producers consistently supporting and playing his music.
"I have cultivated a deeper sense of satisfaction in my performances and in sharing my music than when I first started" says Arthur. "And now with a Canadian Juno Award nomination, I'm finding I'm reaching a broader audience that reaches out of the clubs".
Arthur is currently working on his next full-length album and a remix for fellow Canadian producer, Fairmont, as well as releasing tracks on My Favourite Robot and Thoughtless Music.
Today, Arthur describes the result of his 20-odd years of work as a compounded slope to success. "The music industry is full of potholes and off ramps, but I'm still on the highway…. 'Making it' in this field is always an ongoing process – but if you love what you do enough to keep making it work, then you've already 'made it'."